Scouting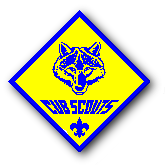 The Cuba United Methodist Church Charters Pack 708
Cub Scout Pack 708
Submitted by Jeff Worst,
Chartered Organization Representative

The Pack is in the middle of a New Year of fun and excitement of Cub Scouting. The Pack would like to thank the church for all the pop cans and bottles that has been donated. If you would like to donate, there is a box located in the coat rake area of the Green Street entrance. The money raised is used to help the boys go to summer camp and other scouting activities through out the year. Boys may join the Pack at anytime during the year and is open for all boys in 1st through 5th grade. Any questions please contact me.
Home About Staff Music Worship Listen to Sermons Online
Pastor Photos Prayer List Location Links Calendar Sunday School News Letter Helping Hands Mail AIM/Rothfus