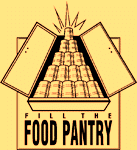 The UMW collects food for the Cuba Food Pantry First Sunday of each month. Bring your item(s) to the Green Street foyer.
Thanks to a large donation from the Cuba Lake crowd, many shelves in the food pantry have been restocked. The few areas still in need of provisions include ready to serve soup (like Progresso), canned pasta meals (like Chef Boyardee), Hamburger Helper, boxed potatoes, boxed/bagged rice and pasta sides, stew and hash. The pantry has seen an increase in use lately, possibly due to the economy, and your donations are helping those in our community who need a little extra assistance. Thank you.
Remember, the UMW will continue to do this every Communion Sunday, the first Sunday of the month.